Let's start by saying that Ezoic is helping a lot of publishers make money online, especially publishers who are not targeting a US audience.
Publishers who have a non-US audience have a difficult time getting accepted by the most popular ad networks so Ezoic deserves some credit in that regard.
I have used Ezoic on two occasions and I am trying to re-add some sites to start my third season.
I rarely have issues with Ezoic because I try to do my research and be responsible for my own site.
What I don't like about Ezoic are things that I have learned to live with when I have been using their service.
What I don't like about Ezoic
These are some of the things that I don't like and thing that I hope they change in the future.
Ezoic Basic
Ezoic started a new service, it is called Ezoic basic. I haven't used it because the service is not available for existing Ezoic users.
Lots of influencers have talked about but they haven't said much about it because they haven't played with it either.
I think Ezoic basic should be part of Ezoic services.
If your site makes a dollar a day, you get to be part of Ezoic basic and once your site makes $200 a month for three consecutive months, you can get access to the Ezoic experience we know.
I like that idea because you don't have to bother integrating a site whose earnings are less $200 a month.
Ezoic won't have to dedicate a team to set up caching, optimize the site for speed and add placeholders and all the rituals that publishers have to go through
Ezoic Premium
I don't really like the premium model that we have now. I have read many publishers stating that Ezoic Premium pays itself or that you are gonna get downgraded to a lower plan if you don't make what Premium say you would do.
That doesn't make any sense. How about taking a cut like others do? 75/25, 60/30?
You probably don't like those numbers but that's better than what Premium does.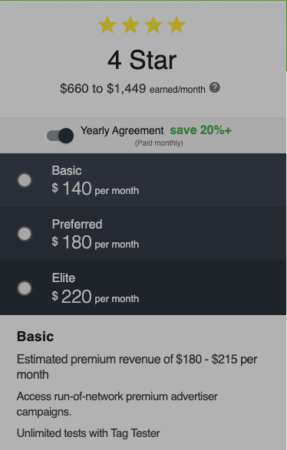 If you make $200 a month, I am happy with you taking $50, not $140.
Lines of Code and Slow Sites
I don't really like Ezoic adding a bunch of lines of code to your HTML. I am not a coder. I am not sure what each one of those lines do but I hate the fact that they are there.
Those lines of code are gonna slow down you site a bit.
This is a video explaining what I am talking about:
Does this make the work of Google bots any harder?
Could this be avoided somehow?
Ezoic and its Many Hats
I don't know the reasoning behind site integrations. Why can Ezoic do what they do best and let people take care of their own sites?
Ezoic wants to take over and be your SEO, Speed, and Security expert.
They also want to be your Content Delivery Network and Your hosting provider if you let them.
Other companies and services don't try to fix publishers' problems that they didn't start.
If your site is slow, it is your f*cking site, change hosting provider, find a lighter theme, don't install crappy plugins, learn speed optimization, add a CDN, subscribe to CloudFlare APO, do whatever you want but fix the problems you have caused.
Access to Google Services
I understand that Ezoic needs access to Google Ad Manager and to an extent to Google Adsense.
But why do you want to have access to my Google Search Console and my Google Analytics?
I don't think that Ezoic should do SEO for people or see private data.
I don't know if access to Google Services is optional but it should be.
Complex Set up
I remember the first time I created an Ezoic account, I felt like what the heck is all this?
Their dashboard probably got a bit more complex since the introduction of Ezoic Leap.
These are the words from a Facebook user from the Affiliate SEO Mastermind
Glad to hear ezoic is moving in the right direction. Without wanting to get into a protracted argument I'm technically minded and have worked as a developer. I also own several ad serving websites and I've worked with several ad networks. Ezoic was by far the worst. I know how things are supposed to work, so if I had difficulties (and Ezoic Tech Team couldn't sort it either), just think how complex it is for the average Joe . Good luck

Daniel – Facebook User
I think I can manage my way through Ezoic because I like learning and writing about this kind of stuff but not everyone wants to take the time and learn about it.
It is understandable, you are there to make money, not too learn what 100 buttons do.
Final Thoughts
I think I have said this before but Ezoic is a very misunderstood platform. They want to be different but Publishers don't seem to like the areas in which Ezoic is different.
Ezoic knows what publishers are bothered by the most but they don't seem to care. They introduce stuff and changes that nobody is asking for.
More about Ezoic
If you want to learn what other publishers think about Ezoic, consider reading these Reddit threads.
More about Monetization
These are some posts about the monetization of WordPress sites