If you have been reading my previous post, you already know I am a huge fan of CloudFlare and Perfmatters handling the speed department.
I haven't used a caching plugin in a while since CloudFlare APO handles more than 97% of requests and CloudFlare Full Page Caching handles more than 86% of all requests.
if you ask me, Cloudflare Full Page is pretty good despite being free:

Last week, I felt like a caching plugin was needed for that 3% to 14% of all requests, especially when making changes to the design of the website.
I found the answer to my little problem in WP-Optimize and these are my reason to install it on all my sites from now on.
Cache Preloading
I wanted a caching plugin with a warm-up cache feature but I didn't feel happy with most of the options in the WordPress.org repository.
WP Fastest Cache has a cache preloading feature but you gotta upgrade to premium if you want to base the preloading on the pages, posts, and post types included on your sitemap.
W3 Total Cache has a sea of options so I wouldn't use it unless you really needed most of what it offers.
WP Rocket or Flying Press because I don't feel like it makes sense to pay for a plugin when most of the speed optimizations are handled by Perfmatters.
Swift Performance Lite also has lots of options so I didn't feel like going through every option and making sure it doesn't conflict with something CloudFlare and Perfmatters are already taking care of.
When I was about to give up, I thought about WP-Optimize, a plugin rarely talked about on the best caching plugin lists.
I installed the plugin and immediately concluded that this was the caching plugin I have been needing all this time.
What I like about WP-Optimize
Let's go over the features of WP-Optimize from my perspective as a Perfmatters and CloudFlare fan.
These are the main sections that you will find in this caching plugin.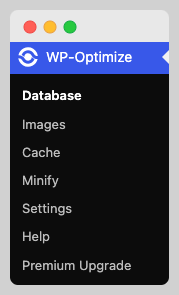 WP-Optimize: Database
As a Perfmatters user, I am sure I won't spend much time digging through the WP Optimize database options.
You can make an argument that there is stuff in there that can help my site somehow but my WordPress dashboard is not slow at all and most of the requests are not cached at the application or CDN Level.
WP-Optimize: Image Optimization
I have never been a fan of keeping a plugin installed in order to optimize the existing and new images.
I usually optimize the images using TinyJPG before I upload them to the media library.
WP-Optimize has the option to optimize images and it also can help you to identify those images that were once used in posts but not anymore.
It also has lazy loading features, since that's a premium feature, I can really say whether it is better than Perfmatters or not.
WP-Optimize: Caching
In the cache is where the magic happens.
The caching section is not out of this world but it has exactly what I need
Caching
Options to determine the Cache Lifespan
Cache Preloading and options to determine how often you want that to run
GZIP Compression
It also has the option to create caching for mobile devices and logged-in users but I don't need them
I like the fact that WP-optimize recognizes that the site uses CloudFlare and doesn't want to mess with my setup.

I like what the cache section does more than other free WordPress caching plugins.
WP-Optimize – Minify
In this section, you will find options to minify the HTML, The styles, and the scripts.
Since I have enabled the assets sections, I don't want to activate this section and cause myself a few headaches
WP-Optimize – Settings and Help
In the settings and help you will find options to export and import settings in case you want to apply optimization on sites that use pretty much the same stack.
You can also disable trackbacks and comments
WP-Optimize Premium Upgrade
Since this is an honest review and I am not really trying to sell you something, I think caching plugins have some use cases but you probably don't need that premium plugin when you can make your site fly by using Perfmatters.
If you buy a premium plugin subscription is because you did your homework and know of a feature that you desperately need, otherwise, you are buying stuff you don't really need.