Do you use code snippets to avoid installing one more plugin on your WordPress site?
Currently I have more than 30 code snippets on all of my sites.
Most of those code snippets help me speed my sites.
Right now developers have discovered you can make some money out code snippets plugins.
Code Snippets Pro
Code Snippets pro is the the plugin that I have been using all this time.
I like because it does what it says it does but it is kinda limited.
I've been completing the plugin with the help of elements section included in GeneratePress Premium.
Now the developers are going to release the premium version which promises to incorporate some of the features brought to life by its competitor.
I like what the plugin does and what the plugin will become once money start paying the bills.
Having said that, I don't like the prices.

Not many people are fan of their prices either.
WPCodeBox
WPCodeBox doesn't have a free version of its plugin on the WordPress repository so not many people know it.
But the plugin is getting noticed by more and more user who like using code snippets to develop and design wordpress sites.
WPCodeBox requires only one-time payment
WPCodeBox prices are way cheaper than paying a yearly subscription for Code Snippets Pro.
Woody Code Snippets
Woody Code Snippets is another popular code snippets plugins which is active in more than +80000
I used the plugins for quite long time to insert ads then I left it because Ad Inserter does a better job in the Display ads department.
I gave it another try but I hated the ads and notices to make you buy their Pro version.
Now that money can be made selling code snippets plugin, they want to enter the war and become another player.
Advanced Scripts
Advanced Scripts is a new pro code snippets plugins that seems to be the current versions of Code Snippets and Woody Code Snippets.
And guess what?
They have lifetime deals and their prices are better than the new Code Snippet Pro and WPCodeBox.
WPCode
WPCode is the latest code snippets plugins that joined the fight.
It is a plugin that replaced Insert Footers and Headers so technically it has more than one million active activations.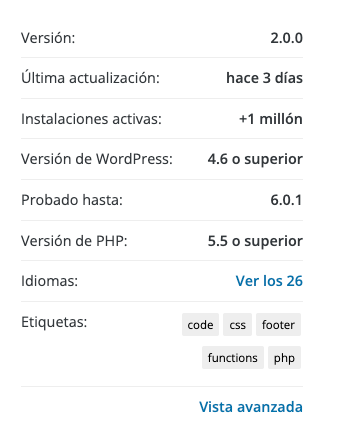 I like what the plugin does. It has an option to import snippets from other plugins such as Woody Code Snippets and Code Snippets Pro
Can Code Snippets Pro be the King?
Code Snippets Pro came late to the party and they rely on the numbers that the free version of the has.
Their pricing kinda says that.
But I wouldn't be so sure, the news of a Premium version can make user think about alternatives.
Who is the Winner?
I have been thinking more about CSS, JS, PHP these days.
I have replaced several plugins with the help of code snippets so I like this movement moving toward playing with snippets a little more so I guess WordPress users are winners here.
Experienced WordPress content creators might start sharing a bit of what they know now that code snippets have risen in popularity.