Ezoic is probably the third more popular service to add display ads to your WordPress site.
They have their gates open to everyone who want to make money from display ads, even small publishers.
I have used Ezoic twice and my second time around was definitely better.
Let's talk about the most common mistakes users make when they join Ezoic.
Migrating to Ezoic Hosting #1
Ezoic offers free hosting to everyone who is using their display ads service.
It is AWS hosting so it is among the best option to host your WordPress site
Despite AWS being a reliable hosting providers, most users don't take their offer because Ezoic hosting doesn't have panel like Cloudways, RunCloud, Gridpane or Kinsta does.
We could also say that cloud Hosting isn't expensive at all so most users won't complicate their lives migrating several sites to Ezoic to save ten bucks a month.
Ezoic hosting is for those who are using crappy hosting and for those who can manage their own sites.
If you don't fall into those categories, you will have better days hosting your site elsewhere.
It is free hosting, don't use it if you can't take care of yourself.
Migrating to Ezoic Hosting #2
Ads will slow down your sites and that's a fact, some user think that hosting their sites at Ezoic will solve those issues.
Ezoic hosting will solve your speed problems if your site speed problems are being caused by your hosting provider.
Migrating from some of the major cloud hosting provider to Ezoic hosting won't probably make a difference in terms of speed.
Removing the Anchor Ads
Some users don't like Anchor ads because they think they affect the user experience.
What they don't know is that the anchor ads are the first or second best ad units that your site has.
If you remove anchor, you are gonna lose money and then you are gonna go to the Ezoic Facebook group to complain about not making money like you used to.
I would remove in-content ads below the fold that don't make you that much money instead of this one
Expecting Fast Support
Ezoic accept small publishers, even publishers who are not making money yet.
I understand that they don't want to assign a whole team to answer every question you have and fix every tiny little problem your site has, specially if your site is not making them any money.
They are not going to solve your problems in five minutes or less so sometimes you have to be patient.
Shooting in the Dark
People go to groups and forums and ask all sort of questions as if all sites were using the same theme, the same number of images, the same hosting provider, have the same number of words.
| | |
| --- | --- |
| Publisher | My site is slow |
| Another publisher | Install WP Rocket |
| Another publisher | Delete WP Rocket |
| A different publisher | Optimize images |
| Group Expert | Set up Leap |
| Group Admin | Leap is all you ever need |
| Another Group Admin | I am closing the comments. |
Another one:
| | |
| --- | --- |
| Publisher | My EPMV is low. Only $12 |
| Another publisher | What niche? |
| Another publisher | Crypto |
| A different publisher | My EPMV is $32. I also blog about crypto |
| Group Expert | Lots of factors come into play |
| Group Admin | Talk to your Ezoic account manager |
| Another Group Admin | Same old stuff, I am closing the comments |
Deleting your Optimization Plugins
There are slow sites and fast sites.
There also slow sites and fast sites with ads
Ads slow down sites but the problems get even worse when your site is terribly slow.
I know Ezoic has Leap but let me give you this advice before you delete your optimization plugin.
Test, test and test again.
For example:
If you are removing unused CSS with PerfMatters, FlyingPress, WP Rocket or any other plugin, make sure Ezoic Leap does that for your site.
And test what tool does it better.
The data never lies.
Setting up Leap without Reasoning
I don't know why Ezoic want to dedicate their team or resources to deal with speed problems they haven't caused.
Speed problems caused by plugins, themes or shared hosting providers should be solved by the publishers themselves.
Try to learn what every option in LEAP is all about, apply an optimization, clear cache and try to see if something breaks.
If nothing breaks, run some speed tests and see if the optimization did something for your site or not.
Changing your Theme
There should be a warning on your Ezoic dashboard that reads "don't change your f*cking theme"
If you use the chrome extension to add placeholders to your site, you will lose most of your placeholders when you change your theme.
And you will be left with two options:
Adding the placeholders again the best way you can
Adding Ezoic ads using an Ad Inserter plugin
Wait for a Ezoic representative to do that for you.
I recommend using Ad Inserter right from the start so you have more control over the ad placement.
Not Using Ezoic Caching
Ezoic doesn't work well with CloudFlare APO or Full Page Caching despite being partners
So use Ezoic caching instead, it does the job.
Optimize your site at the application level and let the Ezoic CDN show content to your visitors.
Don't activate Leap if you don't want to use it or if you don't need it but use Ezoic caching.
Your server will thank you for that.
Paying Attention to Speed Test Scores
I don't give a crap about speed scores, you shouldn't give a crap about scores either.
All ads load all kinds of sh*t so sometimes you get 70, the next time you test you get an 80 and then you get a 54.
You can't control what those ads will load and how those resources will affect speed tests scores
Use speed tests to determine how you can optimize your site scripts and styles.
GTMetrix waterfall can reveal where the rooms for improvement is.
Challenging the Ezoic Cult
I understand that Ezoic representatives defend their products, I don't agree with all of their opinions but I wouldn't expect less from them.
I understand WordPress influencers defending Ezoic since they get 3% of everything you make if you use their affiliate link.
I don't understand the rest of world jumping into a fight like they were the Diaz brothers every time somebody says something negative about Ezoic.
So if you say something negative about Ezoic in the Ezoic Facebook group, be ready to get some harsh comments
Comparing Adsense and Ezoic Earnings
I don't want to use Ezoic if I don't need to so that's why I keep comparing both services.
Ezoic definitely has the upper hand because they can refresh ads and have more advertisers to compete for a spot on your site.
When you sent a bit of traffic to the Adsense version of your site, Ezoic is forcing Adsense advertisers to pay more for those spots.
So you say to yourself, Adsense is making more money or similar amounts to what Ezoic is making me.
When you leave Ezoic, Ezoic is not part of the equation anymore so the advertisers will pay less because there are less advertisers competing for those spots.
Not Reading the Official Documentation
I think everyone should read the Ezoic official documentation before contacting support or asking questions in their forums or groups.
Having said that I think Ezoic could do better gathering all information about a particular topic in one place
You get three articles that talk about the same thing:

And Google offers you a longer and better article with all tips.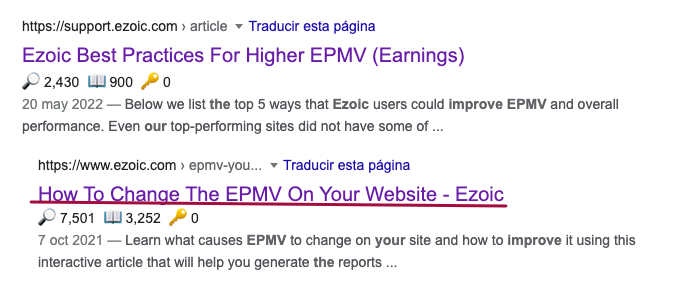 Final Thoughts
Ezoic can be quite complicated, specially for people who are here to make money online and not necessarily interested in learning what CSS and scripts are
Ezoic doesn't have a minimalistic idea about what they want to become.
They want to be everything for every publisher.
If Ezoic want to stand out for being different, Ezoic is probably the most misunderstood company in the ad space.
I hope these tips help you avoid mistakes several publishers have made including myself.