When you join Ezoic, you are invited to use the Ezoic plugin for several reasons including performance, placeholders and more.
I don't use the plugin but I check it once in a while to check the new features and the improvements that it has had over time.
Let's check what this plugin has to offer
The Ezoic Plugin
I like that the Ezoic plugin has a minimalistic design so you won't lose yourself among the many options.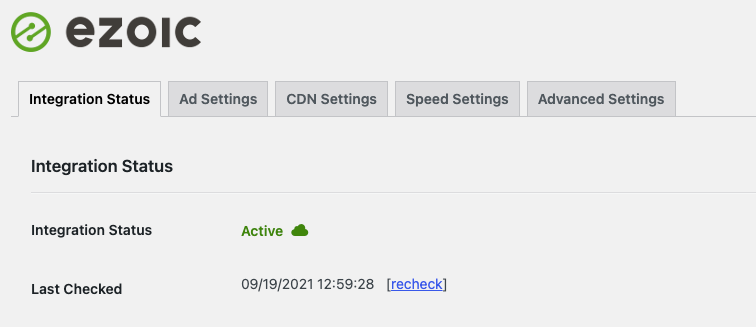 Integration Status
The integration will give you a confirmation if your site is integrated to Ezoic.
You don't need the plugin to be integrated though
Ad Setting
The Ad Setting option will create placeholders automatically so you don't have to do that manually using the Chrome Extension or the Ad Inserter Plugin
If you don't want to use the Ezoic plugin to insert placeholders, I recommend the Ad Inserter plugin because you don't lose the placeholders created when you make changes to your theme.
I decided to give the Ad Settings a try and this is what I got
I got 59 placeholders. I don't usually write long *ss post so I don't really how this could fit way too many placeholders.
You can also see the placeholders were added to the Ezoic Ad Tester.
You can identify them easily because they all start with the "WP" prefix
I activated them all and had a look using the Ezoic Chrome Extension and I found 8 placeholders in the sidebar.
And some placeholder below or above my existing units.
I know how to add placeholders so this doesn't make my life any easier.
I can how this can be useful for a bunch of people who don't know how to do it
CDN Setting
I use Ezoic CDN but I don't use Ezoic LEAP.
Ezoic publishers are pretty much forced to use Ezoic Cloud Caching but you need to have the plugin installed for that.
If I am making changes to one of my posts, I clear the cache of that specific URL manually
Speed Settings
The speed setting section has a bunch of little optimization that speed plugins such as Perfmatters have.
If you really need those optimizations, you can add code snippets using the Code Snippets plugin
Advanced Settings
Advanced settings has three options that most publishers don't need and that nobody is gonna miss
WordPress Caching
SSL Verification
Disable WP Integration
Conclusion
Before I started writing this short review, I felt that I didn't need the Ezoic plugin and I got my feelings confirmed after going through.
I don't know what would make this plugin better in the near future, use it if you don't want to login every time you update a post or if you don't know how to add ads to your site.
Do I Hate Ezoic?
I know that some people take every word that comes out of the Ezoic Family and Friends as it was gospel.
I am not part of the Ezoic cult, I use the service and I hope that they can make more money.
Sometimes I sound a little negative and anybody would sound like that if they weren't trying to get that 3% of all you make for referring you.
If you find my words too negative, you might find all influencers way too positive.