When I started using SEO Plugin, I fell into Yoast SEO's arms and then I migrated my SEO data to Rank Math
Rank Math was pretty giving for free everything Yoast was charging for.
Then I had some issues with Rank Math, it crashed my site after an update so I decided to use SEOPress, Slim SEO, or Smart Crawl instead.
This is what I think about Rank Math and my reasons to use it and stay away from it.
Rank Math Modules I Use
One thing that I like about Rank Math SEO is that you can activate the modules that you need and deactivate all the stuff that you are not going to use.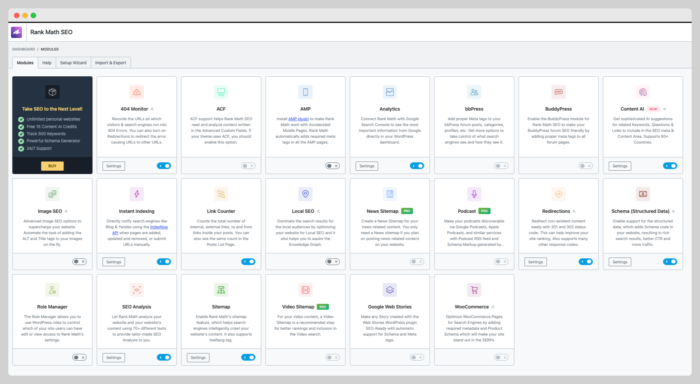 These are the modules that I would consider using:
Redirections: I don't usually create redirection but if I do, I like my SEO plugin does it. Redirections are a premium feature on Yoast and SEOPress.
Schema (Structured Data): You get basic schema for your posts using the free version of Rank Math.
Image SEO: I don't want Google to index my images since most of the time, they are free stock photos
Sitemaps: You can easily customize your sitemaps to help Google Bot crawl only the content you want to rank.
Link Counter: It counts the total number of internal, external links, to and from links inside your posts
Rank Math Modules I Use
These are the modules I am not using:
ACF: I am not using a custom fields plugin
AMP: WordPress users rarely recommend using AMP and I am not one of them.
Analytics: I don't want to connect Rank Math to my Google Search Console
BBPress: I don't use BBPress
BuddyPress: I don't use BuddyPress
Content AI: I might give this a try but I don't need it yet
Instant Indexing: It seems that Instant Indexing is not available for Google yet
Local SEO: I don't have to rank anything locally
Role Manager: You don't need it if you are the only admin
Google Web Stories: I don't even know how to create one of them.
As you can see, Rank Math has a bunch of features that most publishers don't need.
Final Thoughts
I have no doubt in my mind that Rank Math is a powerful SEO Plugin.
If you are considering other SEO Plugins, this is the list of the top ten plugins.
| | |
| --- | --- |
| Plugin | Active Installations |
| Yoast SEO | 5+ million active installations |
| All in One SEO | 3+ million active installations |
| Rank Math SEO | 1+ million active installations |
| SEOPress | 200,000+ active installations |
| BoldGrid Easy SEO | 100,000+ active installations |
| The SEO Framework | 100,000+ active installations |
| SmartCrawl | 20,000+ active installations |
| WP Meta SEO | 20,000+ active installations |
| Slim SEO | 10,000+ active installations |
| Platinum SEO | 10,000+ active installations |
More about SEO Plugins
You might want to read some of these posts before you leave